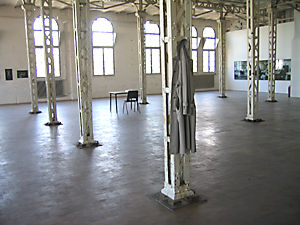 title: NOON (algorithmic photography)
project: a contribution to the group exhibition "Floor of Heaven (photography about photography)" which consists of a contemporary part and a historical part with a large number of old photographs from the archives of Jack Jaeger
location: Artis, 's-Hertogenbosch
curator: Jack Jaeger
participating artists: Ingrid Dekker, Arnoud Holleman, Jack Jaeger, Klaas Kloosterboer, Kinke Kooi, Arnold Mosselman, Julika Rudelius, Bruno Serralongue, Elise Tak, HW Werther, B. Wurtz,
(from the archives of Jack Jaeger:) Anonymous, Cecil Beaton, Etienne Carjat, Walker Evans, Robert J. Flaherty, Franck, Lewis W. Hine, Laton A. Huffman, M. Lavoy, Naya, William Notman, Achille Quinet, Gustav Reijlander, Weegee
material: rain-coat, sealed booklets, printed instruction on paper on foam
size: booklet: 5 x 7 cm.
description: A rain-coat is hanging casually on a pillar in the exhibition space. The two pockets of the coat are filled with booklets. On the pillar is an instruction for the pickpocket. He/she is requested to pick one booklet only. The booklet is sealed in a plastic bag and consists of 16 printed photo's of 3x3 cm. and an algorithm.
concept: A rain-coat hanging on a pillar is so ordinary and casual that it is almost invisible. What is in the pockets of the coat is invisible. It is dark in the pockets. Photo means light. A photograph is not a commodity but a concept. And the concept is for free or even better it may be stolen. It should be brought into daylight. Steeling feels very real, uncomfortable and visible. But it is nice to take something home from an exhibition. A catalogue, a souvenir or a concept.